(

Traducción al español)
With the new edition just about to hit the shelves it is a really exciting time for Blood Bowl! After years seemingly lost in the wilderness, Games Workshop has blessed us with two new editions in the last three years, each more bounteous than the last. The new box set is overflowing with new toys – full teams, star players, big guys and even referee models. It is a great time to be a Blood Bowl coach, and a great time for casual and league players to dip their toe into the waters of the tournament scene.
Tournaments Big & Small
The tournament landscape for Blood Bowl has grown year on year for the best part of the last two decades. These come in all shapes and sizes, from six-man events held in someone's back garden to the 1400 coach World Cup held in a vast Austrian arena in 2019. In normal times you could probably find a tourney of some kind within driving distance every weekend of the year outside of Christmas. Not that you have to stay local! The Blood Bowl tournament scene is a worldwide network, with events from Europe and the USA to Uruguay and South Africa. Tourneys range in style from serious and competitive international competitions to wacky events where every team gets a free Giant added to their team. Tournament organisers have a lot of freedom to stamp their personality on events, with each one having slightly different rules for team composition, skill selection and star player access.
Number of NAF Tournament games played each year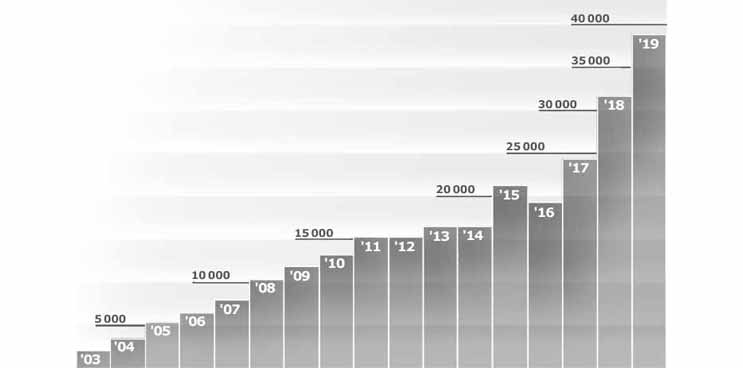 Tournaments are usually a light-hearted affair, with prizes not just for the winner but also for the coaches with the most touchdowns and casualties, and even the prized 'Stunty Cup' for the coach who places highest with a Goblin, Halfling or Ogre team. The smaller board size compared to full miniature wargames such as Warhammer 40,000 or Warmachine means that events do not need to be held in specialist gaming locations. This allows plenty of events can be held in pub function rooms or marquees, and the easy access to beer can make for a much more jovial environment!
One thing that almost universally unites tournaments though is the 'resurrection' format. At the start of an event you pick your team, usually from a budget larger than the default one million gold crowns and with some means of selecting additional skills for your players. You then play every game of a tournament with exactly the same team, with injuries not carrying over but also without earning additional winnings or Star Player Points. In this tournament play is slightly different from what you might have experienced during leagues. But it still the same game in almost every way.
One great thing about Blood Bowl as a tournament game is the almost total absence of arguments about the rules. The tight, self-contained rules and the nature of playing on a board with squares rather than measuring distances means that there is little room for ambiguity. Of course with a new edition on the horizon there may be a brief period of adjustment. But it won't be long before everyone knows what they are doing and there is basically no chance of needing to worry about a dispute over the rules.
The NAF
The glue that holds the tournament scene together as one cohesive whole is the NAF, an international association of players dedicated to Blood Bowl. The NAF acts as a central resource for Blood Bowl coaches the world over – offering news, contacts, discussion, sanctioned tournaments and international player rankings. It is player run and provides a central resource for people to find upcoming tournaments, and records every game you play so you can look back on your past games and glory on your victories or keep grudges of your losses more efficiently! The NAF is player-run but has a great relationship with Games Workshop, who at one point even produced the annual membership gifts for them. The NAF also plays a crucial role in supporting large flagship events which would otherwise be too big a financial risk for individual tournament organisers to host. If you can forgive the website looking like it was designed as a school project in 1997 then you will find lots of useful information there.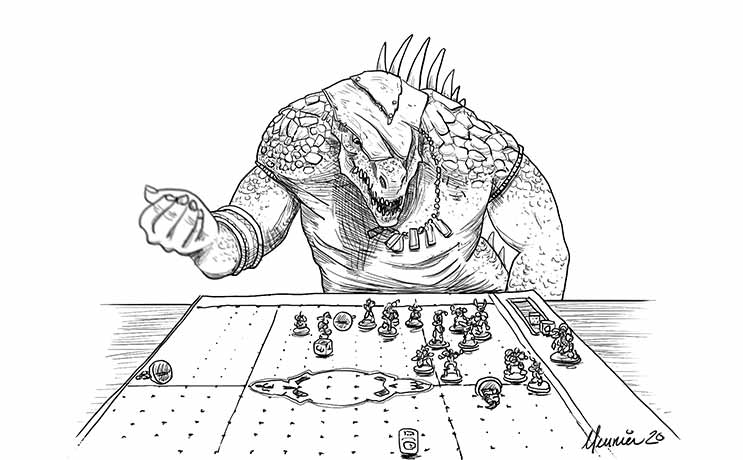 Team Tournaments
Whilst the majority of events pit individual coaches against one another, recent years have seen an explosion in the popularity of team tournaments. Here you can grab some friends and play rounds 4v4, 5v5 or even in some cases 8v8. These rounds are still made up of individual games of Blood Bowl, but the result is determined by the combined results of all the games. This has a number of benefits, primarily the camaraderie and excitement of playing with and for your friends. Not only do you get to spend time with them rather than being scattered around the event, but also every dice roll is that much more exciting with your pals relying on you. From a more competitive perspective, this also helps flatten out some of the volatility of the dice and can lead to the best coaches winning more often than at an individual event.
Team tournaments are often marquee events and the highlight of a nation's calendar with events including the UK Team Challenge in York, the Tilean Team Cup in Italy and the Amorical Cup in North America attracting huge numbers and many international travellers. These events have in recent years been dominated by two teams, with 'All The President's Men' featuring the old guard of the English team being put under pressure by the up-and-coming force of team 'Alfea' from Italy. There are also strong teams from the likes of Denmark, Germany and France putting in good performances.
Majors
Blood Bowl tournaments don't really distinguish between small and large tournaments in the RTT / GT format found in some other games. But it does have a few special events that award double ranking points and attract an international field of coaches. These are the NAF Championship in Nottingham (UK), the Dungeonbowl in Dusseldorf (Germany,) the Chaos Cup in Chicago (USA) and the Spike Trophy in Canada. A major is a prestigious event, and winning one is considered a fine achievement. Recent announcements have meant that when tournaments return, these majors will be joined by new 'Nationals' in France, Spain, Italy, Poland and Sweden which will also award double ranking points. This is an exciting development for the scene as these tournaments always tend to be large events where you get to meet a great bunch of people from all around the world.
Eurobowl & The World Cup
The absolute pinnacle of the Blood Bowl calendar each year is the Eurobowl or World Cup. These are the equivalent of the ETC / WTC events held in many other Games Workshop games. In Blood Bowl there is a World Cup held once every four years, with squads of six coaches and no restrictions on who can enter or how these squads can be formed. This is the greatest party in all of Blood Bowl, with the last event in 2019 attracting more than 1400 coaches from all corners of the globe. There were nearly 1000 at the 2015 event and 450 at the one in 2011, so you can see that this is an event that people are increasingly keen to be a part of.
In the three years in which a WTC is not held, there is a Eurobowl. This is the classic 'clash of nations' style team event, with each country able to send one squad of eight coaches to compete for the title of European champions. Non-European nations are now also allowed to enter the event, although the concentration of people playing the game means that the event will always be held in Europe. The Eurobowl has been held overlooking a Swedish castle, next to the sea in the south of France, inside the tallest building in Vienna and many more exciting locations.
There is more than just the title to play for though, with hosting rights for the next event up for grabs for the highest placed nation that has yet to have hosted. This is often a more cherished prize than the championship itself, with nations desperate for their chance to show the rest of the world what they can do! It is also a great way to grow the game, with each new corner of the continent drawing new nations into the fold. For example, the 2021 Eurobowl in Poland has caught the attention of the Lithuanian community who plans to send a team for the first time. Eurobowl is such fun that once a country makes its debut, they almost always come back for future events, so this is a great way to build ties across the world.
Alongside the Eurobowl is held the EurOpen, a three coach team event open to all for those who want to join in the fun or cheer on their compatriots. The EurOpen also attracts hundreds of coaches and pushes the event overall to numbers approaching five hundred attendees. From a humble beginning with about twenty coaches when first attempted in Austria, the EurOpen has grown to a size where it now has more people playing it in than the Eurobowl itself!
Travel
One of the best things about the Blood Bowl tournament scene is the opportunity it offers for travelling the world. I have played tournaments in sixteen different countries now and have never been met with anything other than a friendly welcome. We have a great community and there always seem to be people willing to welcome you into the fold. Being able to combine a silly board game tournament with a trip to the south of France, a boat trip along the Danube or the majestic sight of the Canadian Rockies is a joy. It sounds ridiculous, but having a reason and/or excuse to arrange a little trip is often the only way to get around to doing half of these things. Getting nerds to all point in the same direction is more difficult than herding cats!
Final Thoughts
Hopefully this short article has given those new to the game a rough idea of what the tournament scene looks like. With all the talk of global events towards the end of this article, it might have started to sound a bit daunting. But never fear, the majority of tourneys are much more local and low key and offer a brilliant point of entry. Tournaments used to be mainly two-day affairs in order to fit in six rounds, but one-day events have blossomed since the game's 2016 re-release offering an even easier route in. The community is friendly and fun, so don't be scared! When the world gets back to normal have a look for your nearest Blood Bowl tournament and pop along for a few games.