Author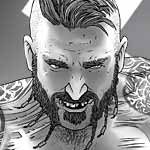 Meunier
Meunier is a nature illustrator specialized in aquatic species. His versatile style is a digital blend of inks, gradients, and textures. Originally from Montréal in Canada, he studied graphic design. He is now a freelancer located in the city of Québec.
A large part of his work appears in museums and aquariums in both Québec and New Brunswick, as well as in Québec's national parks.
He was part of teams that won artistic awards (the Baines AZA Award, Canadian Association of Zoo and Aquariums, and the Excellence award from the Canadian Museums Association for Exporail – The Canadian Railway Museum, in 2004).
Meunier is a Blood Bowl player and La Kasse Gueule's league commissioner.
He is also bloodbowlstrategies's webmaster and resident illustrator.
CONTACT
You can write him a message via this contact form.
Nothing Found
It seems we can't find what you're looking for. Perhaps searching can help.