Taureau Amiral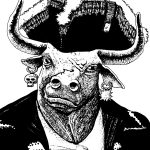 Taureau Amiral, (born February 3, 1979, Montreal, Canada) is a Canadian minotaur and a retired professional blood bowl player from the National Blood Bowl League (NBBL). He is also a former professional blood bowl head coach, leading the chaotic NBBL Washington Union in two crushing seasons. In 2014, he became Blood Bowl Strategies' editor.
Early Life
Nicknamed Amiral in honor of his father's rank in the Royal Canadian Navy, he was one of eight calves of Taureau Rouge, who died when he was only nine. He then moved to Ohio where a family friend adopted him. When Amiral was 16, he obtained an appointment to West Point and graduated near the head of his class in 1999. The nostalgia of the cold wild north led Amiral to resign from the army the same year to join the Bagotville 3rd Squadron in the Royal Canadian Air Force. Soon, a friend introduced him to the Separatists, Quebec City's semi-pro blood bowl team. It was love at first sight.
Pro Playing Career
The Washington Union drafted Taureau 44th overall in the 2002 NBBL Entry Draft. His strong play as a "defensive forward minotaur" helped the Union win the 2003 Stars and Stripes Cup against the Montgomery Sesech. He was named the Union's captain in 2006 and led them to the 2007 Stars and Stripes Cup against the same Montgomery Secesh. Amiral also won three Selfish Bastard Trophies (2005, 2006 and 2007). Amiral retired as a player shortly after that.
"I know of a ball … It was blitzed free by the Secesh and rescued by Taureau Amiral in a bloody little skirmish," a Times journalist wrote. "It cost three linemen's lives, just to get back that little pig-skinned ball."
Pro Coaching Career
After a brief stint as an assistant-coach, Amiral was soon assigned as a head coach to a now struggling Union. In 2010, he coached a disastrous first season. He was convinced by this brief experience that he was unfit for such responsibility and begged his superiors not to trust him anymore. They nevertheless kept him in office and it proved the right decision. Under Amiral's steel-fisted leadership, the Union slowly transformed back into hard-nosed winners. In 2011, Amiral won his first Stars and Stripes Cup as a head coach.
In 2012, Amiral's star was on the ascendant as he coached to bring another Cup to the Union. With veterans now under his command, Amiral led the celebrated "2012 Union Landslide". Not a single defeat was recorded that season while the Union gained a reputation for mercilessly annihilating entire teams. By the end of the season, Amiral readied his team for the Cup's final showdown, and only the Montgomery Secesh could offer token resistance. Amiral stepped down at the height of his glory in 2013.
"The Union's violence constantly rises to new extremes. Every team bench is now so jam-packed with reserves that certainly, coaches must be insane", a Times journalist wrote.
Teaching Career
Amiral gravitated another few months around the Union's organization until his return to Canada. Wild animal hallucinations confirmed to him that it was time to leave his old life behind and teach blood bowl. On his return, fans asked him: "Where are all your awards?" Amiral replied: "I came back empty-handed. Starting tomorrow, in the morning, I will throw a blood bowl ball from the East and, disturbed by no one, it will be caught in the West".
Blood Bowl coaches then began following his teachings that are now also published on bloodbowlstrategies.com. Here contains Amiral's philosophical, strategic and tactical vision, hopefully breathing fresh air into a calcified blood bowl world. Don't take him too seriously, though (he doesn't himself). Modestly, he only wants to open a few doors in your mind, using strength if need be.
CONTACT