Contributors
TAUREAU AMIRAL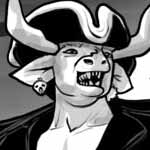 Taureau Amiral is a French Canadian minotaur and a retired professional blood bowl player from the National Blood Bowl League. He is a former professional blood bowl head coach, leading the chaotic Washington Union to the Stars and Stripes Cup in two crushing seasons. During his career, Amiral also won three Selfish Bastard Awards. In 2014, he became a blood bowl teacher and blogger at bloodbowlstrategies.com. Modestly, he now only wants to open a few doors in your mind, using strength if need be.
Full biography and contact infos
PABLO GALVÁN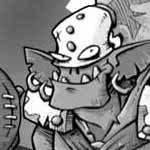 If you have read his first comic strips book, Botas de Clavos – Number Zero, you know that Pablo is a fantasy football fan. He began drawing comic strips when playing in a league. Today, he continues with those strips and publishes them weekly on his social networks and on bloodbowlstrategies.com where they are translated in both English (Studded Boots) and French (Bottes Cloutées).
IAN H. MCKINLEY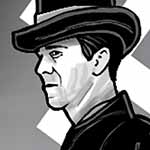 Ian H. McKinley is a Canadian diplomat and writer of "fantastic realism," fantasy that escapes the tropes of pure good versus ultimate evil. Rather, Ian's narratives are driven by alignments and/or collisions of human interests and values. His first novel, The Gallows Gem of Prallyn explored an explosive mixture of zealotry, class oppression, and nationalism, the results of which take the reader on a gripping adventure. He is also the author of the Up and Under tale published on bloodbowlstrategies.com.
Full biography and contact infos
Meunier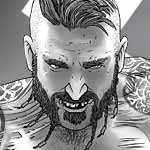 Meunier is a nature illustrator specialized in aquatic species. He also illustrates the Up and Under tale published on our website. His versatile style is a digital blend of inks, gradients, and textures. Originally from Montréal in Canada, he studied graphic design. He is now a freelancer located in the city of Québec. Meunier is an avid Blood Bowl player and La Kasse Gueule's league commissioner. He is also bloodbowlstrategies's webmaster and resident illustrator.